Subscribe to Fresh Squeezed, essential ideas on branding, marketing and growing a small business.
Subscribe to Fresh Squeezed, essential ideas on branding, marketing and growing a small business.
Turning 50, celebrating 25 years in business… and what's next
I turned 50 in October.
My business will turn 25 in June.
On one hand, these are just numbers. On the other, it's staggering to think about.
People ask, "how does it feel?" I'm actually excited about it, and at the same time, one of the first things that comes to mind is that one of my career highlights was voting on the Grammys for many years… now I don't even watch because I don't know who anyone is. LOL I suppose that is simply how the stone rolls.
And you may ask yourself, well, How did I get here?
While I truly don't feel any different, as milestones, turning both 50 & 25 give me reason to pause and reflect. How did I get here, is this what I was I was aiming for? Am I happy? What have I learned,? What's next? Afterall, time is ticking… and it's a good thing because nothing is more motivating than a deadline!
The Talking Heads Once in a Lifetime, via GIPHY
I've been a self-employed designer for 25 years. For the most part I've stuck to the solopreneur model. I'm a maker. I've never wanted to manage a team. I tried expanding at one point – it was profitable, but managing others vs making things, was not fulfilling to me. I've also learned that I am more driven by freedom and creativity than money. I am now consciously focused on personal fulfillment not just the bottom line.
We often confuse skills with our true nature
In recent years, I've been exploring how to generate revenue apart from direct client services. There are so many things I can or could do, but are they the right things for me? Do I really want to do that?
Susan Cain says "We often confuse skills with our true nature." Just because you are good at something, have aptitude for something, can make money doing something… doesn't mean you should. I like to make things and to help people. The further I get from those two things, the further I get from my own personal fulfillment.
I spend most days in my home studio with my dogs — creating, learning and helping others. It's easy to get caught up in the day to day deadlines and the urgency imposed by clients and lose focus… In the end it is me who pays the price. Just like you, I am a work in progress. And I am trying to be more conscious of setting boundaries and schedules so I have more time to breathe and to allow creativity to flow and flourish. Afterall, Darwin was a slacker and you should be too.

Lessons learned
This journey thus far has been fun, challenging, rewarding, surprising, interesting, and filled with too many projects to count, too many missteps to recall and waaaay too many amazing people to name. What follows are just a few of the many things that come to mind as I reflect on 50 years on earth and 25 years in the trenches…

When things turns to shit, kick some dirt over it and move on.
This lesson comes right from my dogs. On my 20th birthday, the stock market crashed — it was Black Monday, Oct 19, 1987. We survived. Fast forward another 20 years and it happened again with the great recession and we survived. I've made mistakes on projects – it sucks – but I just own it, fix what I can and move on. Nothing is gained by wallowing in the muck.
Don't wait, you'll never be ready.
Consistent Imperfect action is the key to just about everything. There is no perfect moment to start. So start now.
There is no right answer.
"By all means, avoid the wrong answers. But don't hold out waiting for the correct one." Seth Godin
You don't need permission (or approval).
Don't ask people what they think of your ideas. They will tell you. Right or wrong, go with your gut.
Dog hair is the new black.
It goes with everything. It can also be a condiment. Collectively, my two dogs weigh 200lbs and shed the equivalent of 10 dogs. I'm covered within moments of dressing. They follow me everywhere, keep me company in my studio, and even join in on conference calls. They are a constant reminder to keep it simple and steady, take breaks and enjoy the ride. And the hair? I choose to think of it as canine confetti or love sprinkles. 🙂
IT DOES NOT HAVE TO BE HARD.
It can be easy. You can like what you do and have fun doing it. Seems stunningly obvious when you see it in print, but how often do we make things harder than they need to be? I joke that I strive to provide elegantly simple solutions to complex problems… but I specialize in making simple things more complicated than necessary. A big lesson for me has been that things don't have to be hard to be valuable.
You don't have to do it alone.
We all need help and support. Whether you take a class, outsource for your weaknesses or to multiply your output, hire a V.A., work with a coach… It's important to build your team. Even as a solopreneur who prefers to do most things myself, I have a V.A., an outsourced CFO, CPA, a coach, an accountability partner, and participate in online mastermind type groups.
People do business with people they like. Period.
Relationships are the key to success. Yes, of course you must provide a good product and service, but that is baseline and not a competitive advantage. Relationships can make or break you. My business of 25 years was built on referrals, helping others and building strong relationships with clients, vendors, colleagues, competitors, etc. And they told 2 friends and so on and so on and so on…
Please, thank you and general kindness go a long way.
Treat people well, deliver on what you promise, do what you said you would, over deliver where you can, be helpful and considerate, be a connector. It's not just about what you are getting paid to do, it's the entire experience you provide someone that makes you worth mentioning. As Seth Godin says, "Be remarkable."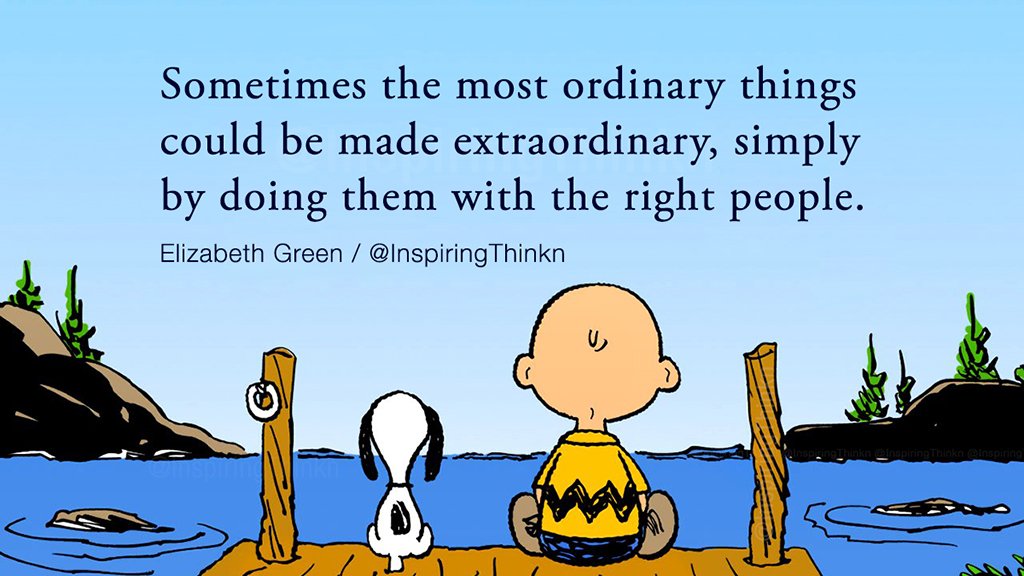 https://twitter.com/InspiringThinkn/status/893926233007771648
Magnify what matters.
"In times of strife, we have our imagination, we have our creative impulse, which are things that are more important than material things. They are the things that we should magnify." Patti Smith
Life is short. I can't remember where this came from, but this post-it hangs over my desk:
I want to hang out with people who help me grow intellectually, emotionally and spiritually.
Focus on 10x vs 10%. Faced with a multitude of competing demands, it can be easy to work on the wrong things. There are times I have felt I am the poster child for this. I have too many ideas and get caught up in the minutia of what is involved in execution. The guys at Co-Schedule break it down how if we're not careful, this can lead to wasting effort on things that drive incremental improvements, instead of the 10X growth that actually builds business.
What's next?
Orange Star
As always, I will continue to help others with branding, graphic design, web design and digital marketing… it's the core who I am and what I do!
In 2018 I will be launching an affiliate program for rescue groups to help raise funds and awareness. I also plan to start a video podcast — Inspired by NPR's StoryCorps, I'll be recording the extraordinary tales of everyday dogs and their humans. Life may be good, but everything is better with a dog!
I stopped making and showing my art the last few years so I could carve out time to get Live Love Dogs off the ground.  I'm ready to pick up where I left off, the fire never goes out, but there is only so much me to go around. I don't want to wait until later because life is short. Look for me on social media and at jodihersh.com where I plan to post behind the scenes videos and images showing works in progress as well as new completed works.
But wait, there's more!
Ray Kroc was 52 when he started McDonalds. I'm looking at 50/25 as the start of my next chapter.
I have designed a lot of things and built a lot of websites for a lot of people who do a lot of different things. They are all smart people with great ideas. But you know what else many have in common? When I check back in a year later, their sites look exactly the same as I left them. Often there is no new content. It pains me because these websites could be developing new business for them while they sleep.
These folks are sharp, so why is this? I think people are overwhelmed. I think they don't know where to start, they are paralyzed at the thought of eating the elephant whole. They are busy with other things and this is never a priority.
There is too much marketing how-to content out there, so many tools, so many tactics, so many experts, so may gurus, so many courses, books, blogs, videos, ad infinitum… Who has time to consume and digest all that and then take action? Everyone is too busy doing their jobs, making the donuts, doing the billable work, etc.
I've been thinking about this a lot… What if there were a straightforward path to follow? Would you be more likely to take it and do the work? I think many of you would.
I have sipped from that proverbial fire hose of information for you already. I will be sharing the tools, tactics, and templates I use for my own business and to help my clients start and grow theirs and am formatting it into a simple framework made up of actionable steps.
It will be called The Smartist's Way — 

an essentialist approach to branding and marketing a small business

.
If you'd like to be kept in the loop, please join the list below. (I will not spam you or share your info with anyone. Promise!)
Subscribe to Fresh Squeezed
Essential ideas about branding, marketing and growing a small business.
Weekday emails to help exceptional people like YOU bring your visions to life.